I know it's not Lost Boys related, but it is a vampire themed object... I'm working on the Cronos Device... the Damnation Inducing Scarab from the brilliantly done 1993 movie called (what else?) Cronos.
hehehe...
To celebrate the impending release of the Criterion edition of Cronos I made a prop of the device.
It's officially the largest prop I've attempted at 5 inches tall 3 wide, and 6 layers of detail. Five hours of sculpting, baking and painting and now It's mine... IT'S ALL MINE! Yes, I know, I made the winding mechanism tiny, and not a triangle. Mine is a small, button like whirl.
A bit of background on the device itself: it was created by a Medieval alchemist seeking immortality and it contains within it, a living creature. What that creature is I do not know. If activated, the Damnation Scarab will attach itself to your chest via the 6 needle like golden legs and the animal inside will burrow into your heart. The device will allow you live as long as you wear it, you cannot grow older, you will not get sick, any previous illnesses you have will be stopped, and it gradually turns you into a vampire. The creature inside the scarab lives off blood and if you put it on, so will you.
IMDB | Cronos
the Trailer:
http://www.youtube.com/watch?v=cc4T64SxoZA
The Prop:
1. - full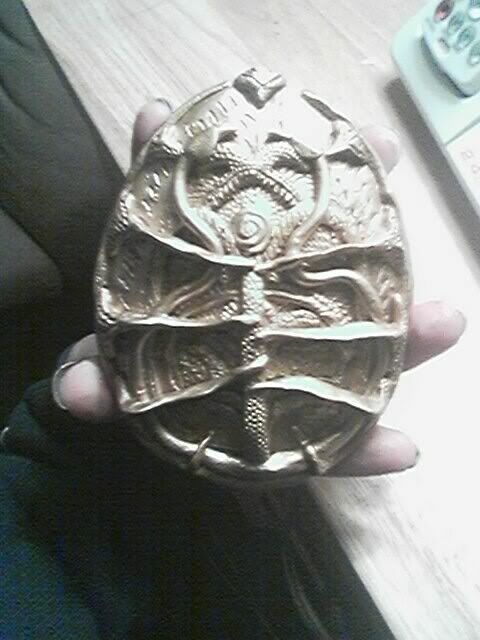 shitty cell phone camera none of the close ups came out. See below for pre-paint detail.
Making of the prop: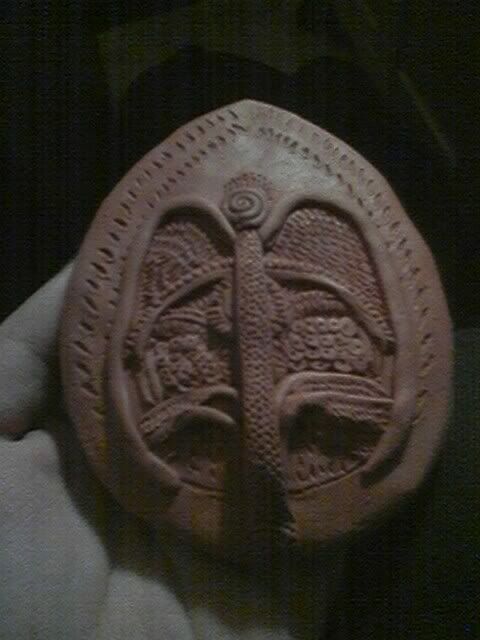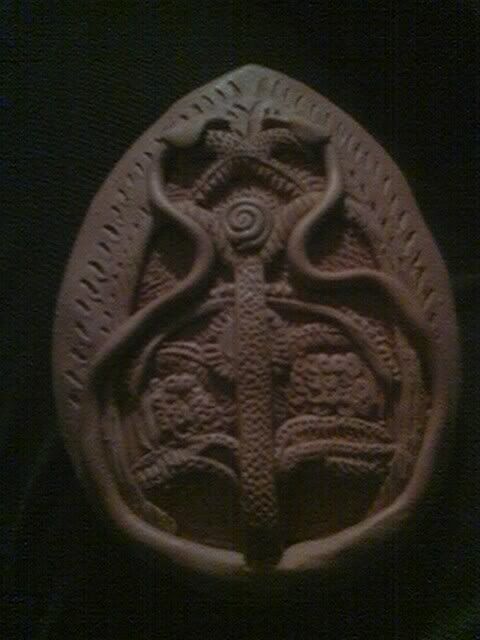 Mein Mulligan - Cronos Device Take Two:
I'm making another Device. This one much more accurate to the one in the film. It's 3 inches long by 1.5 inch wide and a half inch thick, minus the legs and tail. The design is much simpler with eraser -dimples for a beaten gold look, and a three lines of decoration. Under the seam I could not resist some minor dash-lines and of course it has the triangle winder and spiral nose.
Currently waiting for the glue to dry as two of the legs popped off in the oven. One leg is reattached, the other has to double dry as it broke in two... ugh. The other's have been glue-enforced to hopefully prevent them from snapping off during painting. I need a hot glue gun so badly Clear Tacky Glue tries my patience
Here's a pre-bake pic.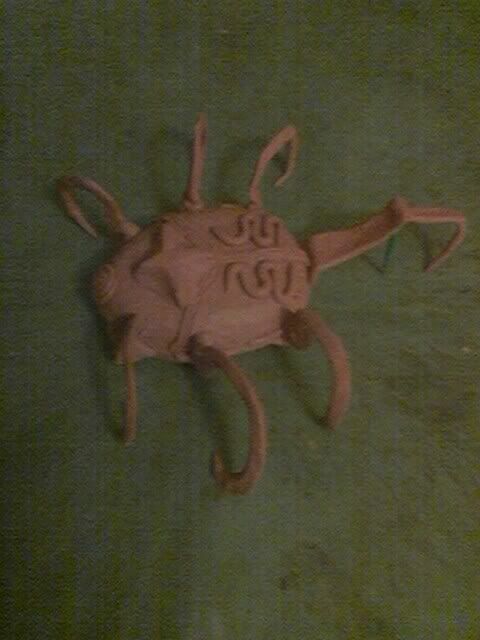 _________________
because folklorists are nuts...
Here's a riddle for you; Exactly who or what should you fear?
The Lost Boys of GURPS wikia
A fan wikia and GURPS conversion.